In this interactive June workshop, Evan Frendo cast light on current developments in corporate language learning. He discussed the implications of these for business English teachers, and talked about possible ways of adapting to new trends and requirements.
Evan kicked off his talk by painting a picture of the typical present-day corporate workplace. His main observation was that formal learning is increasingly fading out, largely due to faster and more agile work environments. Increasing time pressure often means no time for full courses. Instead, 'microlearning on the go' is rapidly becoming the new normal.
From Prescribed Learning to Learning on Demand
Evan pointed out that this new type of learning means that the learner actively "pulls" whatever knowledge is needed at any given time ('learning on demand'). Traditionally, students would attend a full course, with trainers "pushing" all sorts of knowledge on them.
This general shift of focus from teacher to learner-controlled instruction means that the learner no longer sees the trainer as an all-encompassing learning resource. Rather, the instructor is one of an abundance of resources.
As digital content allows learners access to knowledge 24/7, tech tools are no longer an optional add-on. As a part of mainstream culture they are well-nigh essential at this point. This also means that informal learning (learning outside the classroom) is very much part of the equation, and that it's part of the teacher's job to help students optimise it.
Curating vs. Creating
Due to learners' needs frequently changing in agile environments, we can increasingly see the role of the teacher as a curator – not creator – of materials. Providing personalised, bite-sized bits of information at the right time is key. With performance taking precedence over proficiency, teaching is no longer about imparting linguistic knowledge and Shakespearean eloquence. It is about ensuring that the client learns whatever language is needed to get the job done.
But how does a teacher or trainer best go about offering personalised content at the right time?
The Embedded Trainer
One of the ideas that Evan presented was that of the "embedded trainer". In order to create an immersive learning experience, it's best for the trainer to be part of the learners' work environment. Evan talked about his own experience teaching maritime English to an intercultural group of learners.
Instead of teaching generic lists of vocabulary online or in a physical classroom, he visited his students on a ship. On board, Evan taught them exactly which vocabulary was required in different situations. This very effectively furthered their real-time capabilities.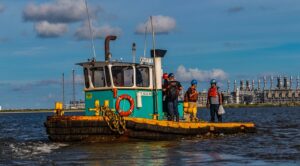 Other examples of embedding include frequently asking for and implementing feedback, the "shadowing" of other teachers and learning from them, and keeping in touch with management for company-related information and resources. On the technical side, Evan recommended using Learning Content Management Systems (LCMS).
LCMS
In a nutshell, LCMS are extended data repositories for learning content. Traditional Learning Management Systems (LMS) include materials and organisational information, such as course details and dates, book recommendations, seminar facilities, etc.
LCMS go beyond mere course-related information and materials. For example, an LCMS may include all work-related emails a student has written in the past year. Trainers can then use these materials in class. It may also contain information on past and current company projects and lists of people involved. So if a client starts a new project, the teacher may track down a colleague with previous experience and bring them together for an informal interview as part of the learning experience.
LCMS are thus very hands-on teaching resources, as they contain relevant contacts and realia. Of course, the trainer needs to be in touch with and working together with management in order to gain access to a company's data repository.
To get started, Evan recommended using free training courses on the internet to practice using LCMS.
Teachers' Thoughts
We discussed Evan's points in breakout rooms and together in the large group. While everyone saw the benefit of a hands-on, immersive approach, most teachers reported that there wasn't much of a possibility for them to "visit" their students in work-related contexts. Moreover, management is usually inaccessible to individual trainers. Shadowing colleagues isn't impossible, but still requires negotiation and networking, which is why most trainers refrain from it. Evan admitted that teachers are often part of a system that creates roadblocks, and one suggestion to remedy this was to work with smaller, more flexible companies if feasible.
The group agreed that while some kind of structure is necessary, flexibility is essential. Responding to individual learners' shifting needs is crucial for trainers. Several teachers also talked about their experience with microlearning, which turned out to be surprisingly effective. They reported that a trainer can do a lot in a straightforward thirty-minute lesson, when the student doesn't have more time. One trainer told the story of a student who, due to personal circumstances, missed most of his class. Although he only had a ten-minute lesson, he thoroughly enjoyed those ten minutes. Feedback was another thing we all deemed essential. As one participant put it, "You can only be as good as the feedback you get".
The Takeaway
The biggest takeaway was that corporate language training is rapidly moving from a formal course setting to a learner-centred jigsaw puzzle approach. Curating fitting materials from all sorts of different sources, listening to and adapting to learners' needs and facilitating an interactive, realistic learner experience are the best ways to stay ahead of the game in a rapidly changing corporate environment.
***
If you liked this article, Evan Frendo's take on teaching English for Specific Purposes (ESP) may interest you.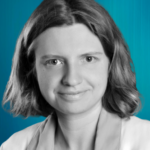 Sandra is the current editor-in-chief of the ELTABB journal. She holds an MA in English and is passionate about brain-friendly language learning. Likes Shakespeare and Venetian lute music.