As hosts of the Easy English YouTube channel, Mitch and Isi are always eager to scratch that learning-language itch – and as fans of their work we were itching to find out more about their story. Kit Flemons reached out for an interview with the team taking spoken English off the streets…
What is – and who are – Easy English?
So, first, could you tell us a bit about the Easy Languages project?
Easy Languages is a network that aims to help people learn languages through authentic street interviews and conversations. Since its beginning over 15 years ago, it's become a huge franchise spanning over 40 languages, it aims to make videos and podcast episodes freely accessible for everyone, creating a mutual learning experience.
And yourselves, Mitch and Isi – could you introduce yourselves to our readers?
Mitch is one of the hosts and the editor of Easy English. Mitch has a degree in sound technology and worked as a lighting designer and theatre technician for 10 years before moving into film, where he started as a video editor. He is a self-proclaimed film nerd and comedy fan and was introduced to Easy Languages by Isi who planted the seed to start Easy English together.
Isi, an events manager at the time, volunteered with Easy German early on and was later brought in full-time to join her sister Cari and Janusz, who started Easy Languages. With a passion for British culture, music and nature, Isi eventually moved to England where she met Mitch and they opened the Easy English YouTube channel. For German, she's a regular host of the 'Super Easy German' episodes and manages the Publishing Community team.
How to Make Videos and Influence People
What is the foundation that you build upon when making new videos?
The main foundations for our videos may seem self-indulgent, but they are always ideas or topics that we, ourselves, find funny, curious, challenging or interesting. And we hope that by doing that, our content is more engaging and our audience is able to see that we enjoy and relish the opportunity to make that type of episode or ask that kind of question.
For the home-style videos, it's always a narrative idea that comes first and then comes figuring out how to work in a grammatical/cultural aspect to it. And lastly, for the interviews, we're always interested in current affairs and cultural norms.
A YouTube channel is obviously a pretty new medium, but technology is still evolving rapidly. Which direction do you see language learning going in?
Well right now, Easy Languages is taking on the podcast universe, including Easy English; we intend to start our own podcast by the end of the summer, with interactive learning material for our members. But it's hard to tell where things are going. Mitch owns some VR goggles and the technology is still relatively basic when you compare it to modern gaming consoles and the latest visual effects.
But perhaps digital learning will become possible through VR; you could join us on a filming day along the seafront perhaps, or in a virtual Easy Languages classroom. Or alternatively, we could come to you! How would you like an Easy English hologram in your living room?!
Lights, Camera, Learning!
Your videos are very professional! What equipment do you need to start a YouTube channel?

There are requirements for becoming an Easy Languages co-producer. However, unlike most YouTube channels, where the focus is mostly on the visuals, we'd say a good microphone is the most important part of creating language learning content. Easy English owns a DSLR camera, two microphones (host and interviewee), some LED panel lights and a laptop with editing software – all of which are relatively affordable.
What We Don't See…
What is the behind-the-scenes work like?
Well, Easy English's team consists of us, Mitch and Isi – but we are supported by the Easy Languages team and the entire network of other Easy Languages channels. We discuss episode titles, thumbnails, technical issues and share personal experiences and tips and tricks of the trade. Internally, we have a long list of ideas/questions we've thought of or that viewers have suggested. So, after a quick team meeting/dog walk, we head out onto the streets and start filming.
An Easy English episode can take between 2 and 4 hours to film, depending on how many people are around us, and then Mitch will edit and transcribe the video. Using the final episode we publish on YouTube, we create not only our social media content, but also the learning perks for our official Easy English members.
How many people must you interview per video? How many do you edit out?
To be honest, we're a bit spoilt at Easy English. We are located in Brighton, on the south coast, and it's an amazing city, filled with interesting, welcoming, creative and often eccentric individuals. Most people here tend to have a creative side hustle, so are always more than happy to help out with other creative projects. If you can only visit one place in Britain, it has to be Brighton – we couldn't recommend it enough!

Keeping with the Times
What is your most popular video… and why? 
As English is a common language, it means we have the advantage of being able to work with all the other teams across the Easy Languages multiverse. So, we've made a few collaborations with the teams. Most notably, our English pronunciation videos. We all put a lot of effort into making this video and it also meant Mitch got to create his own 80's-inspired montage scene, including all the essential elements – corny acting, unnecessary workout scene, freeze frame introductions, helicopter chase and guitar solo!

From www to ABC
ELTABB is a community of English teachers in Berlin/Brandenburg. Do you have any tips for using your videos in the classroom? (Or as the basis for homework?)
Well… now that you mention it, Easy English has a platform for our official Easy English members! You can go to easyenglish.video/membership each week to find learning extras for each and every episode that we've produced. So for example, if your students are beginners or intermediate learners, you can watch the episode and read along using the transcript and the vocabulary helper sheet – it gives you definitions for the complicated words, phrases and slang used.
Or, if they're advanced learners and want to test their listening skills, we offer the video without subtitles and an MP3 audio file of the episode as a download. And then once they feel confident, they can test their skills using our worksheet, which has you filling in the blanks and finding the odd-ones-out from multiple-choice questions.
We additionally sell licenses of our content if you want to use the episodes for your own learning purposes. If you're interested in licenses or have questions about our learning material, please contact us at mitch@easyenglish.video
We'd also just love to hear from any teacher or school that watches and supports our channel.
And finally… do you have any big plans for the future?

Well, as we mentioned, we have a podcast out soon, which also comes with its own specific learning extras, including an interactive transcript that translates the text into a huge variety of different languages. We also intend to do a tour of Britain and the British Isles to pick up on the expansive diversity of accents, dialects and cultural norms that exist on our island.
***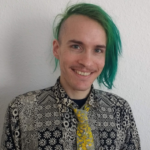 Following the traditional path of discovering Rammstein, Kraftwerk and Run Lola Run as a teenager, Kit has dreamed of living in Germany ever since. Finally making the move in January 2019, he now works here as a freelance English teacher by day and by night enjoys reading, writing and weeping into books of German grammar.