Have you ever been to a conference or training session and taken copious notes, only to never look at them again? I certainly have! In this post, I'll share how to use simple doodles and sketchnotes to make learning more accessible and fun.
Before I trained as a graphic facilitator and developed my sketchnoting skills, I had tons of notebooks filled with notes I never looked at again. Perhaps you've also filled your whiteboard with vocabulary and grammar notes, then taken a step back and realised how overwhelming it looks?
Looking back on my whiteboards from the past, they must have been quite dull for learners to look at, and to copy. I even tried taking notes digitally, but they weren't appealing to review either. Now, each simple doodle I add makes them more meaningful, understandable and engaging.
The benefits of drawing
There are a multitude of reasons why every teacher should draw in class. I'm never sure where to begin, but one of the main benefits for me is understanding. As language teachers, our goal is to ensure that students have understood the content of our lessons. Adding simple doodles makes this a million times easier.
Take a look at image one. This was what the whiteboards in my ESOL literacy class looked like before I learned to use simple drawings. It's just a list of words. My students would copy these into their notebooks, adding a translation in their first language.
Their notebooks then became a list of words with more words explaining the meaning.
This can be time consuming to read, and overwhelming, especially if your learners are neuro-diverse or developing their literacy skills. It's also not particularly motivating to review.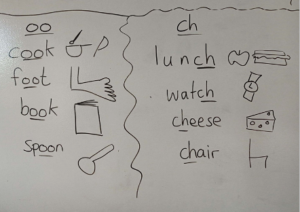 Now take a look at image two. The doodles are certainly not works of art, but they make each word instantly more understandable. Students are also much more likely to remember each word.
A study by Wammes and Meade (see reference) found that people are more likely to remember new vocabulary if they draw it. This is called the 'Drawing Effect'. So encouraging students to add doodles to their notes can help them remember.
I could write all day about the benefits of drawing and graphic facilitation, but I know you'd prefer to look at pictures. Here's a sketchnote I created summarising some of the advantages:
But I 'can't draw'
Everyone can draw. If you can draw a circle, square and triangle, you can draw. Look at the sketchnote above. Most of the icons are made up of simple shapes. Even the alphabet and numbers consists of mostly lines and curves. Graphic facilitation isn't about art. It's about communicating through simple visuals. Take a look at my doodle of a foot in the whiteboard image above. There is certainly nothing artistic about it, but it gets the point across.
Drawing in class should be quick and convey meaning. Students don't want to watch their teacher creating a masterpiece. Every one of the doodles above took me about the same amount of time to draw as writing the word itself. Some even gave students a giggle, started discussions and gave them the confidence to draw their own.
Graphic facilitation is based around international iconography. Just like learning a language, learning to communicate this way takes time and practice. It's a visual vocabulary and once you know how to draw some basic icons, you're flying!
Zero prep ways to use visuals in class
One of the things I love most about visual teaching strategies is that they have reduced my preparation time immensely. I now have a multitude of ready to go activities that I simply draw on the whiteboard, or display using an online interactive whiteboard or slides.
In this activity, I wanted to generate discussions and ideas sharing on study tips. I drew nine icons on the whiteboard; a notebook, a book, a laptop, a TV, a mobile phone, a face, a radio, a speech bubble and a whiteboard. You'll notice that most of the icons use a rectangle in some way, so it was simple for students to copy them to their notebooks.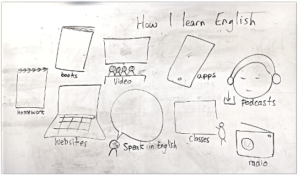 Once students had copied each icon to their notebooks, they discussed in pairs. They used each image as a visual prompt. They could then create their own questions, e.g., "What books do you read? What advice do you have for homework?"
To facilitate sharing advice, I gave them post-it notes and asked them to add their ideas. This got them out of their seats and gave them a chance to chat about their key takeaways.
There are various extension tasks to this activity – find someone who (wrote the post-it note), write your study plan, do a presentation on study advice, etc. It also lends itself well to various linguistic topics – future tenses (e.g. 'I will', 'I plan to'), conditionals ("If I do my homework every day, I will…"), giving advice (e.g. 'should', 'could', 'have you tried').
Visual templates like these are not only minimal prep, but they are also extremely flexible. You can use, re-use and repurpose them in many ways.
Sketchnoting
Technically, sketchnoting is visual recording rather than visual facilitation. It involves capturing the key information in note form, supported with simple doodles. The drawing element provides an opportunity to think critically and process the information more deeply. This makes it easier to remember. It also makes notes much more fun to create and review.
Here's a few examples I created for an online NATECLA event showcasing various action research projects for the OTLA.
In order to sketchnote, you'll need to develop your visual vocabulary. As with learning a language, I recommend starting with high frequency icons. For me, as a language teacher, the most common ones are ones that represent reading, writing, speaking, listening and drawing. Why not get started by copying the ones in this article?
Conclusion
Using drawings and graphic facilitation techniques is perfect for the ELT classroom. There are so many benefits, it should wear a cape and fly.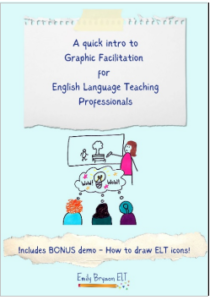 If you'd like more information, I have tons of freebies, videos, podcasts and training courses at www.EmilyBrysonELT.com. You can download my free sketchnoting and graphic facilitation guides there too. Follow me on socials: @EmilyBrysonELT.
Reference
https://www.researchgate.net/publication/282658904_The_Drawing_Effect_Evidence_for_Reliable_and_Robust_Memory_Benefits_in_Free_Recall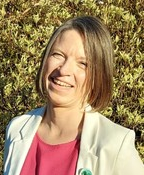 Emily Bryson is an author, teacher trainer, graphic facilitator, visual recorder and ESOL lecturer. She has written various print and digital materials, including National Geographic Learning's Voices series, 50 Ways to Teach Life Skills and the A-Z of ESOL. She is passionate about diversity, equity and inclusion and dedicates much of her classroom practice to exploring ways to make learning more accessible for all. These include hand drawn visual templates, graphic organisers and sketchnotes. Her online courses have been described as 'the nicest corner of the internet'!