In this webinar we looked into the reasons why we let our workload get out of control, the stories we keep telling ourselves to impose even more work, our decision motivators, and finally, what we can do to change this.

Eltabbers are used to attending fantastic CPD workshops that provide new ideas and activities we can bring to the classroom. In the hunt for a perfect activity, lesson plan, new approaches and methodologies, always keeping in mind our LEARNERS and their needs, we tend to forget about ourselves – the teachers.
Fortunately, this webinar focused on teacher well-being. Perfect timing, Claire!
Even though we were sitting at home in front of our screens Claire managed to create a very safe and trusting atmosphere. By opening her own heart she invited us to share our own experience and emotions. "Go vulnerable or go home!" was our motto. Every part of the webinar was followed by a reflection in which one or more participants shared their thoughts or stories.
Claire started the webinar by reflecting on what her workload looked like in 2012. Most of us could relate as we do multiple jobs: university teaching, corporate training, presenting at conferences, writing, volunteering for BESIG or local organisations… Choose out of the list or/and add your own. How do we end up with this amount of work?
We might use excessive work as displacement to avoid parts of life we are dissatisfied with, or we might think that the more we work, the 'better' our professional selves are.
Storytime…
Next stop – storytelling. We keep telling ourselves false stories. The typical ones include:
"This happens because I'm a freelancer. That always happens to freelancers."

"This happens because I can't say "no" etc.
Because our 'chimp brain' (see references) that is activated to protect us from danger and emotional distress always tells us, "Don't do that! You'll fail!"
But instead of making excuses or imagining what others might think, we could switch from storytelling mode to reality mode. During Reflection 1 we discussed that teachers often struggle with imposter syndrome and 'analysis paralysis'. Also, we are 'shoulding' ourselves instead of focusing on COULD. We all agreed that we need to give ourselves permission to be NOT PERFECT.
Decision motivators
Then we sorted decision motivators into 3 categories: positive (red), negative (blue) and neutral (yellow). The latter can be positive or negative, depending on the context.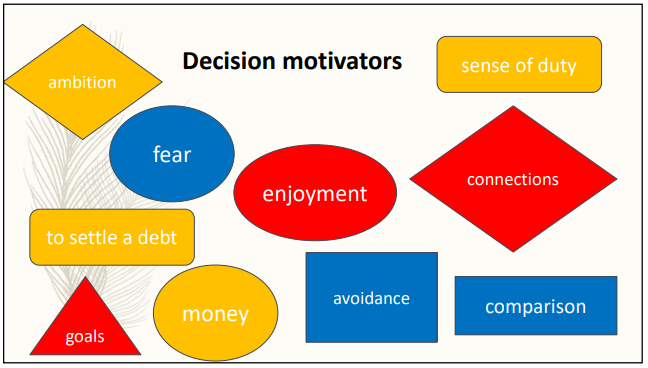 While positive motivators comprise enjoyment, connections and goals, negative ones include aspects like fear, avoidance and comparison. In contrast to that, the neutral category contains motivators like ambition, sense of duty, settling a debt and money.
What would nana say?
Afterwards Claire introduced us to the Wheel of Life and asked us to imagine what our 80-year-old selves would regret doing, regret not doing and what advice they would give us. I volunteered to share during the reflection. Something I believe my 80-year-old self would definitely regret is procrastinating. I often have a lot on my plate and when it gets overwhelming, I simply stop doing things. I am still on my way to solving this, but I have already taken some steps.
That was followed by a list of NOT-to-do things, such as checking your online banking obsessively, or looking at other people's social media profiles, or staying up late binge watching, or worrying that you're not good enough…
The importance of 'No'
Then we discussed the fear of saying 'NO'. Why do we keep saying yes? Is it to avoid confrontation? Is it FOMO (fear of missing out)? Are we afraid to lose our job, or not to be offered jobs any more? It is the lack of control over our workload that leads us to this fear.
But what would have happened if one had said 'No' to the last job offer? There's a very high chance that there would have been no confrontation, no job would have been lost and new job opportunities would have appeared.
Asking yourself some helpful questions
Finally Claire suggested a plan to manage your workload by asking these questions:
How are you going to counteract the damaging stories you tell yourself about your work?
What are you going to base future work-related decisions on? What will you not base them on?
What ares of your life do you want to devote more energy to or be more satisified in? How can you achieve that?
How will you create more time for yourself and what will you do with this time?
We all switched off the monitors with food for thought and Wheels of Life printed out, plans already forming in our heads, inspired to start changing.
Want to read more from Galina? She shares a funny anecdote about her CELTA training here.
References
Steve Peters. The Chimp Paradox: The Acclaimed Mind Management Programme to Help You Achieve Success, Confidence and Happiness.
The Wheel of Life: https://www.thecoachingtoolscompany.com/products/wheel-of-life-coaching-tool