As a recent transplant to Berlin, I showed up at an ELTABB stammtisch early in the year and was immediately impressed with the friendly group of people who were sharing teaching ideas, offering advice on local bureaucracy and laughing over corny linguistics jokes. After tutoring on my own for several years, I was so excited to have "colleagues" again! I sent in my membership the next day.
Over the year, my appreciation for this group has only grown as I've gotten to know the many members who are committed to growing as professionals and helping others do the same. ELTABBers support each other as teachers and as friends. It's rare to find a professional association made up of such enthusiastic members who want to strengthen our local teaching community, and who have a ton of fun together at the same time. As a group, we've accomplished a lot this year! Join me as we look back over this busy year's roster of events…
23 articles were published in the newly-launched ELTABB Journal.
We launched Connections at the beginning of the year to share articles of interest to teachers here in Berlin and beyond. So far, we have covered a wide range of topics – from general tips for freelancing in Berlin to teaching ESP to cosmeticians. We are excited to discover what will come next!
12 ELTABBers-of-the-month were interviewed for the Blog.
Mandy Welfare started interviewing members back in 2016, and I took on the task this year. The interviews provide a great way to learn about the diverse work of our members and to help us discover common interests.
11 Stammtisch socials were organized by Breanna Alexander.
Breanna's energy and enthusiasm help make the stammtisch meet-ups a fun way to network and meet new friends.
10 Workshops were arranged by Annie Heringer and Galina Khinchuk.
In addition to professional development, ELTABB workshops offer a great way to connect with other teachers while deepening your own knowledge base and perhaps even challenging some of your long-held ideas.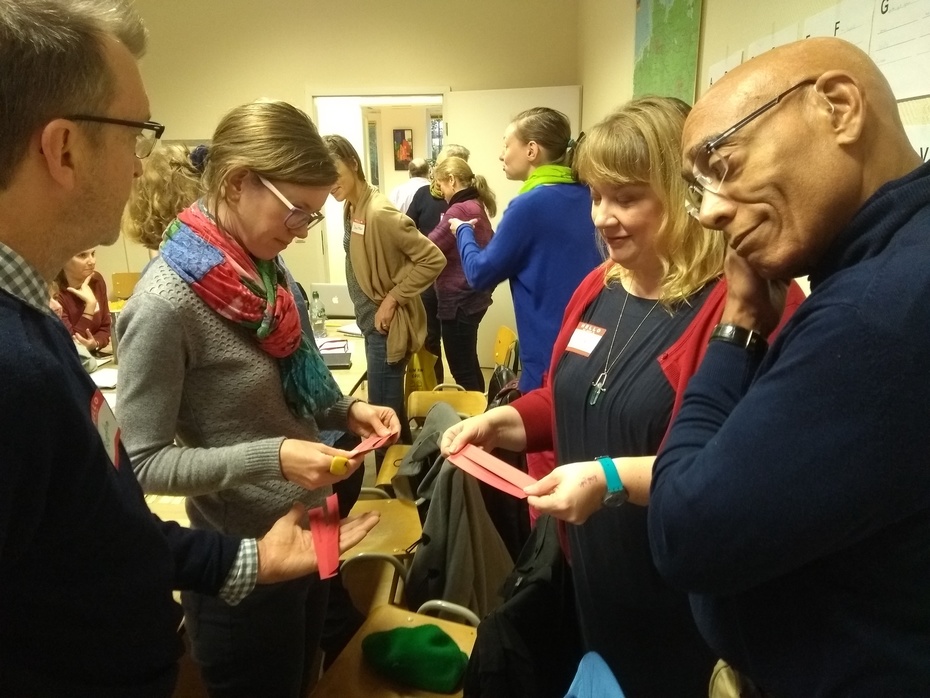 I was able to attend Mandy Welfare's intriguing talk on intercultural communication, as well as Evan Frendo's deep-dive into corpus analysis. More recently, I participated in Tanja Murphy-Ilibasic's fantastic workshop "Moving from Role-Play to Real-Play." Just a reminder that all workshops are free with your yearly membership, but be sure to RSVP as they're very popular!
8 Conferences and inter-ELTA workshops were attended by ELTABBers.
Personally, I really enjoyed getting to be a part of ELTAU's "Teaching in the Cloud" hybrid workshop and webinar series. It was a great opportunity to learn about different methods of online tutoring and to meet colleagues from the Ulm area.
8 friendly ELTABBers represented the association at the 32nd International Expolingua.
We got to meet teachers (and future teachers) from all over Germany and tell them about what a great community of teachers we are!
5 new members joined the ELTABB Board.
This year we had a big turnover on our board! Two members stayed on (but in different roles), while 5 new people stepped up to lead ELTABB. Thanks for all the support from the outgoing board members. Our next Annual General Meeting is February 29th, if you're thinking about volunteering for 2020.
4 Board Game meet-ups were hosted by Sherri Williams.
As I said in the Intro, ELTABBers like to have fun. Sherri found that several members had a common interest and stepped up to organize a group.
4 ELTABB members presented at the 32nd Annual IATEFL Business English Special Interest Group (BESIG) conference.
Several members presented at a conference for the first time this year, and there were plenty of fellow members in the audience to support and encourage them!
3 Staff Room discussions were led by ELTABB teachers.
Staff Rooms offer a great way to try out new material, share ideas with other teachers, or maybe even practice a talk you're preparing for a conference. I found Staff Rooms to be a comfortable, informal way for teachers to put their heads together around a common theme, and come away with pragmatic ideas to use with students.
1 fantastic 25th Anniversary Party was fearlessly led by our Chair, Sarah Brown.
2019 was a big anniversary for ELTABB and we celebrated in style at the Aquarium with a delicious catered buffet, drinks, speeches, trivia and a walk down memory lane with old photos and newsletters. Just like this new year, it was a great opportunity to look back at where we've come from and appreciate all we've accomplished as we look forward to the year ahead. Here's to a new year of learning and growing together! Happy 2020!