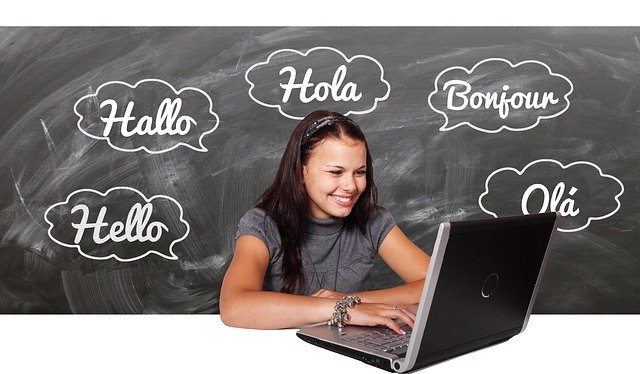 Language coach Miri Mikeska helps other language enthusiasts become polyglots like himself. Let's see what he has to say about functional learning habits and why he gave up his career job to become a travelling teacher.

Hi Miri, it's great to have you here on the ELTABB Journal! Let's start right away with the first question.
What motivated you to become a polyglot, and when did you start learning languages?
Miri: I've always admired people who lived abroad and could speak more than one language. They were heroes to me. However, having luckily passed my A-levels in English and German at high school, I became very busy with my future career plans—studying in the UK, getting an interesting job at BMW in Munich and starting my own business afterward.
Four years ago I came back to languages while travelling for almost a year. I had no better strategy than learning key phrases when watching films and talking to people. I met many people, and this was just an amazing time I had. My motivation was high, but the learning process was truly spontaneous and simple.
How many languages do you speak? Are you equally fluent in all of them?
Miri: I do speak 11 languages and I am not equally fluent in all of them. Not at the same time. It is a constant process of learning, forgetting and refreshing. There is a nice quote:
A foreign language is like a frail, delicate muscle. If you do not use it, it weakens. Jhumpa Lahiri
I am usually fluent in the seven languages that I speak regularly. I am at the stage when learning a new language seems easier than maintaining the languages I already know.
Once learnt well and practised, the language is not possible to really forget. Even my grandma remembers some poems in a foreign language from elementary school. What we lose quickly is the ability of so-called 'active recall'. I am sure you know what I mean. It is when you can understand but cannot talk. It is useful to know some strategies of how to refresh the language just before you need it.
What do you think are the biggest mistakes language learners make when starting to learn a new language?
Miri: We are taught to be perfectionists and as a result, we are afraid to make mistakes so we avoid talking in a new language from the early beginning. We postpone speaking and learn more and more theory without actually practising. Nobody has learnt sports or dancing by only learning the theory. Why do we believe it could work for languages? Furthermore, many of us tend to be highly conservative in terms of learning habits.
According to a Eurobarometer survey, in many European countries, up to 80-90% of learners have failed to learn languages at school. But still, it is difficult for us to admit it and change some of our old learning habits for new ones, proven by neuroscience as well as both polyglots and memory athletes.
What would you say to someone who wants or needs to learn a new language but may not have a lot of time or energy to invest?
Miri: I would ask a few simple questions:
What level, skills and vocabulary do you really need and until when? Make it lean. Learn less overall, but focus on what is most important with more repetition and practice. Write down an action plan for 30, 60, 90 days.
Can you find 15-30 min in your schedule to learn (almost) every day in the upcoming 3-6 months? Start with a few minutes daily and make it a durable habit—a part of your life—but in a way that you will not give up, feeling unhappy and overwhelmed.
What makes you happy in your life? Do you love travelling, films, theatre, music, sports or just getting a beer with a couple of fun people after work? Connect all these to your learning experience. You will see the magic!
Can you find people to learn, practise with and keep you motivated in the long term? An active social life, study groups, tandems, meet-ups, couchsurfing, social media…language is all about communication. Learning languages without practising is like learning dancing without dancing. Start with mimicking and repeating out loud, speaking to yourself, then engaging in short conversations online and offline. Prepare phrases in advance. Speak regularly.
Analog or digital learning: which do you think works better and why?
Miri: At the beginning, it is crucial to listen to the sounds of the new language with many repetitions in order to adapt your ears. Any analog tools—texts, textbooks and books—will be almost useless unless one can listen to it at the same time. The technique is called audio-assisted reading and it works great.
On my way to B1-B2 level, I use YouTube lessons a lot for the same reasons—to hear the pronunciation of native speakers. On YouTube, I can easily search for dialogues and phrases which are exactly relevant to my interests and learning goals.
I could not learn as fast as I do without digital content, flashcards and dictionaries. At the same time, I handwrite some of my notes or when using another magic—the keyword technique. Handwriting promotes memory recall better than typing. Some drawing helps too.
But if one decides to achieve C1-C2 level, it will not be possible without extensive reading. To sum up, it is important to know when to choose digital and analog learning. Doing both is a winning combination for me.
In your workshops, you focus on brain-friendly learning. Can you tell us more about that?
Miri: When I researched the neuroscience behind the learning strategies of the best polyglots and memory athletes, the game for me changed completely. Language learning is a constant process that takes at least a few months even for experienced learners. It can be effective only when it goes hand-in-hand with our predispositions.
That is why I focus on the best 5+1 proven neuroscience techniques which take advantage of the strengths of the human brain, unlike many traditional ways of learning. By using them, my students become fluent in a language in 3-6 months—similar to what an average polyglot is able to do.
Before becoming a language coach, you worked for big companies like Bosch and BMW. Why did you change careers, and what is your mission?
Miri: My childhood dream came true at BMW; it was nice to be part of a big family. Generally, if I can learn what I love, I am happy. Once I feel it is time to make a change to learn something new, it is important to step out, choose the less comfortable path and make a change to continue my self-development.
I am fascinated by the human brain, and I love to talk to people from all over the world and prove that the impossible is easily possible—that everyone can be fluent in 3-6 months. I also like to be flexible and able to travel a lot.
That is exactly what I combine through language coaching. I can make many people happy and meet my needs.
What do you think are the greatest benefits of speaking multiple languages? Do you think that polyglots make the world a better place?
Miri: The world becomes one. It is a life-changing and enlightening experience: a way to learn deeply the truth about human beings. To understand who we are.
Nelson Mandela said: "If you talk to a man in a language he understands, that goes to his head. If you talk to him in his own language, that goes to his heart." 🙂 
The interview was conducted by Sandra Roggenkamp.
Hyperpolyglot Miri Mikeska helps Berliners become fluent by using modern learning methods and neuroscientific techniques. He says that everyone can learn languages fast if willing to adapt to the new, brain-friendly habits. His dream is to remove myths about language learning.