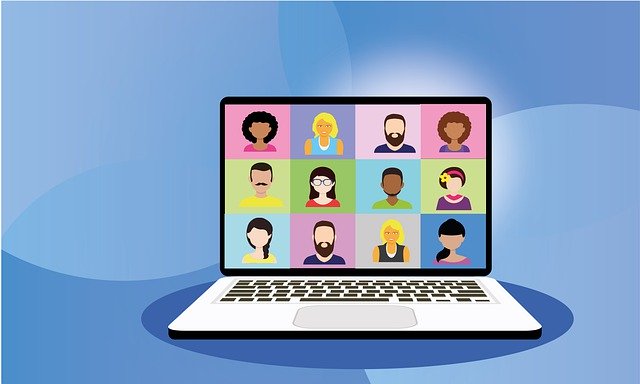 While most of us are experienced remote teachers by now, there is always room for improvement and fine-tuning. Here are twelve tips to help you step up your game when teaching English online.

1. Look at the camera
It's tempting to look at the screen while teaching online because that's where we see our students. Don't give in to the urge. If you look directly at the camera, your client will feel that you are looking into their eyes and be more involved. You can move the inset video to just under the camera because then you're actually looking at the student (or nearer to them). You can also use books to prop up your laptop and bring the camera to eye level.
2. Get a standing desk or a leg rest 
Teaching online changes your routine in some ways.
Sitting is the new smoking!
Mainly, it means that you may be glued to a chair for extended periods of time. That's a problem in itself, because, as we know, sitting is the new smoking! It's therefore advisable to get yourself a standing desk and just teach standing up. You can also just place a stool on your desk for an improvised standing desk. Alternatively, a leg rest will allow you to stretch your knees discreetly every now and then. Your muscles will thank you!
3. Choose a neutral background
There's hardly anything worse than a distracting background when you teach (well, apart from a persistent hiccup maybe). You can work around this by using a plain piece of cloth as your background. Alternatively, you can buy a professional green screen and place it behind you. A third alternative is using a virtual background in Zoom. Just click the little arrow next to the video icon and pick the "virtual background" option. You can upload your own photos for the purpose. Just be aware that the background may shift and flicker when you move, so you might have to do some trial-and-error regarding the images you use.
4. Adjust your way of speaking
When teaching online, you might experience technical issues or sound problems, such as acoustic delay or breathing sounds. To facilitate listening, it's best to speak more slowly than usual and with more pauses. Also, mute your participants while you speak and generally interrupt less than you normally would.
5. Get a good headset/mic
This is a no-brainer, but it still gets a mention here because it can fix a lot of your problems. If your headset reminds you of the tin can telephone you had when you were little, now's the time to get a new one.
On the other hand, some integrated microphone are surprisingly good, so you might try ditching your headset for better audio quality first.
6. Manage your online classroom
In any classroom, online or not, there are some students who enjoy being in the focus and others who don't. As an online tutor, try to target the ones that seem a bit lost without putting them on the spot. When you single out a person to engage them in your lesson, you can mute the rest of the group.
Also, be aware that some people may switch off their cameras because they feel more comfortable that way. You can use the group chat to encourage shy students to share questions and comments.
Online tools like Answergarden or Padlet are great for sparking your students' interest. You can find out more about engaging tools for teaching English online here.
7. Provide visual input
Online learning is a very visual experience, and variety is key if you want to engage your students. You can share your screen to show slides or have your students write on the virtual whiteboard (in Zoom, enable the "annotate" function for this).
If you have a Pro account, you can also create live polls to liven things up and fuel discussion. For a quick recap of some of its helpful functions, check out this Zoom tutorial.
8. Use breakout rooms
You probably do this already: another way to add variety to your lessons is to have group work sessions, just as you would in a regular classroom. To split larger groups into smaller ones, Zoom offers breakout rooms. This tutorial will show you how it works.
9. Share handouts and files
The days of physical handouts are gone, so cloud storage services are the way to go.
Google Drive makes it easy to share files via links – the only catch is that you will need a Google account for this if you don't have one already (and then there's the data protection thingy…). However, it's still one of the most efficient and popular ways to share documents, also because you can actually work on Google Docs simultaneously with the students.
Apart from that, the group chat may be helpful here for sharing links and smaller bits of information.
10. Be prepared
This is another no-brainer, but one that's easy to forget. Before you start teaching online, make sure you have a pen, paper and water handy – you don't want to have to fiddle around for any of these while answering questions. It's also a good way to prepare and sort yourself out before a lesson.
11. Have a break (or two)
Allow for enough breaks from screen time. Sitting in front of a computer for hours on end is demanding, especially for young learners. Slip in a bathroom or tea break every now and then before everyone gets antsy.
12. Practise with other teachers
If you feel you need guinea-pigs to hone your online teaching skills, why not offer your colleagues a sample lesson? They may have some valuable feedback for you and learn from the way you teach as well. Plus, you can take turns, so everyone gets to be the teacher and student.
If you don't know who to ask, no worries! Just join some social media groups for teachers and post a friendly request. You should be able to find like-minded people in no time.
Bonus tip: try this alternative to Zoom
Zoom is great, but the free version comes with a 40-minute-cap for group events (one-on-ones are not affected). After this, your conference call will be cut short and you will have to set up a new session.
BigBlueButton is a completely free, open-source alternative that offers all the features Zoom does, without limitations. Many universities and schools already use it. It may be a tad more complicated to set up, but it should be absolutely worth it.
Happy remote teaching!
For more tips for teaching English online, check out this article on the digital classroom.